Banhez Ensemble
Comprised of 90% Espadín and 10% Barril agaves, this mezcal is delightfully mild, floral and fruity (pineapple, banana). Banhez Ensamble is perfect for first-time mezcal tasters and wonderful for cocktail innovation.
Pickup currently unavailable
RECOMMENDED POUR
Mezcal Margarita
The flavours of Banhez Ensemble Mezcal can be best enjoyed in a Mezcal Margarita. To make your own combine Banhez Ensemble Mezcal, an orange liqueur, and lime juice.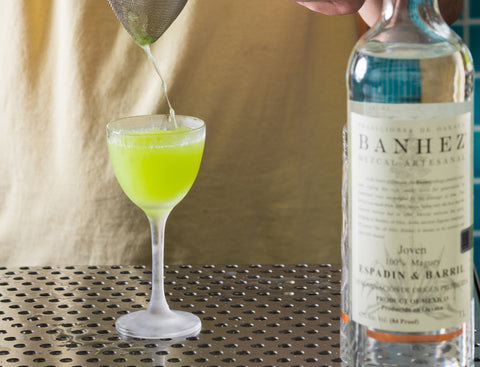 Inspiration behind the product
Banhez Ensemble is a sustainable blend of cultivated agave (90% Espadin, 10% Barril). A percentage of mezcal from each family is sourced and blended to create a consistent, affordable spirit. This gives members of the co-op sustainable income and prevents the over-harvesting of agaves. For every cultivated agave we harvest, we plant 3 more. The delicate cycle of Mezcal only works if we are dedicated to these plants and the people who care for them.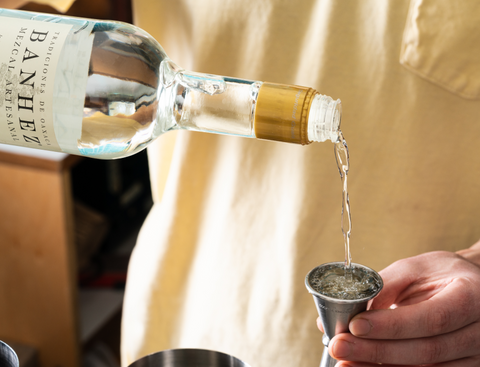 What makes it unique
The families who plant the agave have known this land for centuries and take great care to ensure the fields are natural and grown organically. When ready, the piñas of the agaves are roasted in an underground oven for 4-7 days, loaded with local white oak wood and local river stones.They are then broken down into smaller pieces by hand and placed into the base of the Tahona drawn by horse, cow or mule. In large pine vats called Tinas, they are then fermented for 5 - 7 days. Under the guidance of a talented maestro/a, the distillation process begins in an alembique before it is bottled, and shipped off around the world.