Barrel-Aged Cachaça
Novo Fogo Barrel-Aged Cachaça is an organic, all-natural cachaça aged in American bourbon barrels, with a toasty, banana-bread character.
Pickup currently unavailable
RECOMMENDED POUR
Caveira Cocktail
This wonderfully balanced cocktail combines notes of coffee and cinnamon with a kick of hot spice. Pour 45 ml of Novo Fogo Barrel-Aged Cachaça, 15 ml of chili liqueur, 15 ml of cold coffee, 10 ml of cinnamon syrup and a couple of dashes of aromatic bitters over ice in a mixing glass. Stir everything together until it's chilled, then strain into a chilled cocktail glass. Garnish with an orange twist, and enjoy!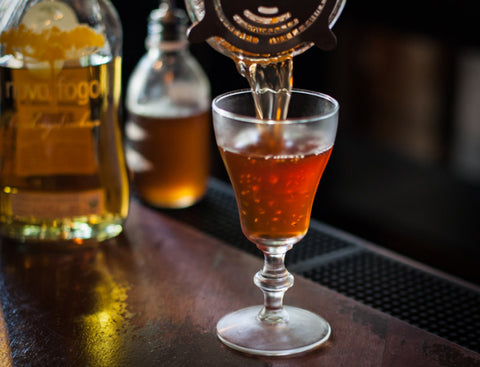 Inspiration behind the product
All of Novo Fogo's products are entirely natural. The distillery and sugarcane plantation is in the heart of the Brazilian rainforest, where the team farms the sugarcane using purely organic methods (no chemical fertilisers, pesticides or herbicides touch this sugarcane) before harvesting it by hand using machetes. The fermentation process takes less than 24 hours, as wild natural yeasts transform the pressed sugarcane juice into wine, and then the cachaça is distilled in a copper alembic pot still.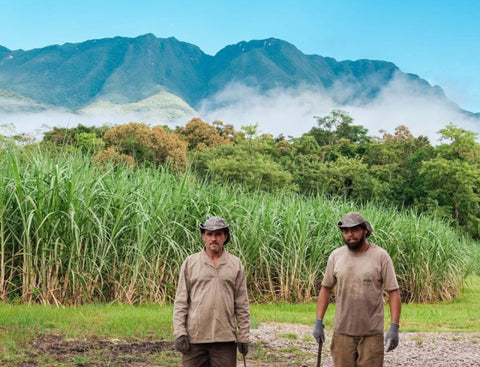 What makes it unique
When it emerges from distillation, Novo Fogo's Barrel-Aged Cachaça enters the ageing process that gives it its distinctive character. The barrels used to age it are 53 gallon American bourbon barrels, which have been taken apart, sanded, and re-toasted – toasting the wood breaks down the structure of the oak, which allows the liquid inside to penetrate more easily, and the toasting itself adds charred, caramel flavours to the final product. The heat and humidity of the Atlantic Rainforest also adds to this process, meaning that after two to three years of ageing, this cachaça emerges with a uniquely delicious flavour and aroma profile: banana bread, coffee, chocolate, cinnamon bark, and roasted black coffee all mingled together to create a superbly balanced aged cachaça.