Winter Negroni
A ready-to-drink classic cocktail mix, made up from three of Stockholms Bränneri's signature spirits and inspired by the Swedish midwinter.
Pickup currently unavailable
RECOMMENDED POUR
Ready-to-drink
This Winter Negroni is all ready to go. Enjoy it poured straight over ice, sitting by a crackling fireplace in midwinter with good friends - or warm it up and drink it hot, letting it spread its warmth through you on a cold winter's day. Garnish with a slice of ripe orange.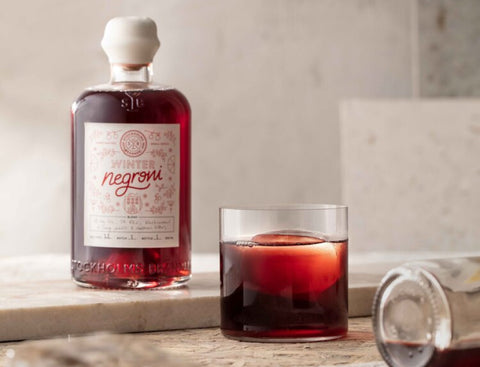 Inspiration behind the product
Stockholms Bränneri's Winter Negroni is a ready-to-drink cocktail mix, created as a warming twist on the classic Negroni. Using their Dry Gin, Röd apéritif and Christmas bitters as the three base spirits, Stockholms Bränneri infused this mixture with cold-pressed cherry and blackcurrant to add sharp, sweet fruit notes to the herbal, bittersweet flavours of the spirits. The result is a juicy, herbal Negroni, perfect to warm the soul on an endless Scandinavian winter's evening.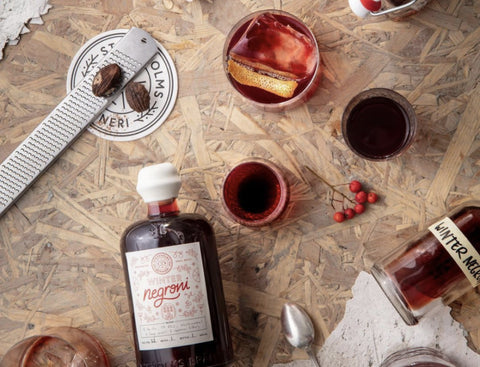 What makes it unique
Each bottle of Stockholms Bränneri's spirits is produced with tender, loving care. All of the botanicals that go into the infusion are organic and carefully hand-selected, before the bottles are hand-filled and labelled. Each bottle is marked with its own batch and bottle number to ensure meticulous Scandinavian perfection, every step of the way. Every spirit that goes into their Winter Negroni blend has been rigorously created and handcrafted, giving this cocktail an impressive pedigree.