THE ORIGIN STORY
A work from home pioneer
Audemus was created in 2013 by Miko Abouaf - a long-time distiller from France. After working for a number of years for famous cognac distilleries including Martell and Courvoisier, Miko decided it was time to branch and pursue his own venture. Inspired by Sacred Spirits, a microdistillery from London that opened a few years earlier, he noted that it wasn't necessary for him to have a big facility packed with copper stills to truly make an impact on the craft spirits world. He set up a vacuum distillery in his own living room and Audemus began.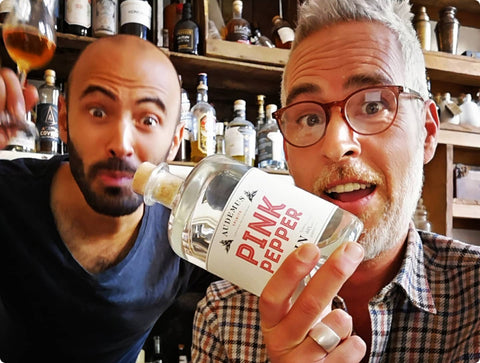 THE SECRET SAUCE
Dialling distinct flavours
By varying pressure, temperature, maceration time and many other factors, Miko is able to treat each botanical differently and extract his desired flavour profile. He lowers the pressure to bring out delicate, greener notes or turns it up for a stronger, spicier result. For Pink Pepper Gin, all of the botanicals are distilled separately, blended with a neutral grain spirit and filtered before they are bottled.