THE ORIGIN STORY
A land of plenty
Novo Fogo was founded in 2009 by Dragos Axinte – a Romanian entrepreneur who moved to the U.S. when he was 18 years old. After taking a business trip to Brazil, he and his wife, Emily, became captivated by the country's passion for soccer and their national spirit: cachaça. He saw the production of a cachaça as a unique business opportunity that could also be a catalyst for positive environmental change. Whilst in search of something that was handcrafted, organic and ethically sourced, he met Torres Viruel – a former engineer who had founded his own distillery – and Dr. Agenor Maccari – an agricultural scientist and master distiller.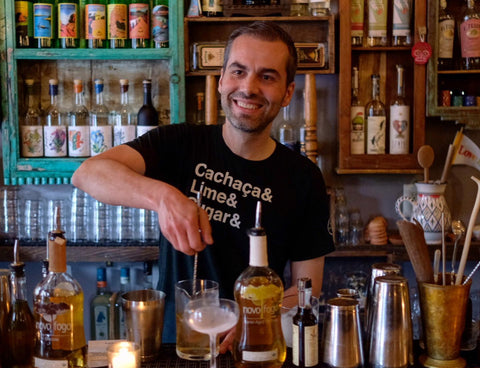 THE SECRET SAUCE
Barrel-ageing before beauty
After the distillation process, Brazilian cachaça is often left to rest in steel tanks or aged in American oak barrels. The longer a cachaça is left to age, the more transformations take place regarding its colour, aroma, and flavour. Most of Novo Fogo's products are aged in repurposed bourbon barrels from Kentucky, while some go through an additional ageing process in barrels made from sustainably-harvested Brazilian woods.