THE ORIGIN STORY
A pure minimalist vision
Stockholms Bränneri products are immediately recognisable. They're minimalist. Sleek. Contemporary. Painstakingly handcrafted. And when you look at the pared-down team behind the products, it's easy to see why. Anna and Calle created Stockholms Bränneri to pay homage to their own Nordic heritage, and run the entire business with a tiny team of just three more people. They work out of a repurposed Jaguar workshop on the Stockholm island of Södermalm, creating intricate gems of craft spirits in tiny batches.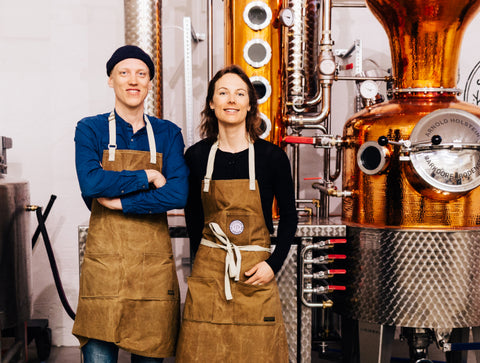 THE SECRET SAUCE
The stamp of perfection
Stockholms Bränneri's first product, a dry gin, was received with unanimous admiration. Its delicate, clean, polished flavour profile was a taste of things to come. The team began experimenting, creating different twists on gins, then branched out into aquavits, apéritifs, digestifs, and cocktail mixes. Each of their products bears an instantly recognisable Stockholms Bränneri stamp: the cool minimalist perfection that has become their trademark.